Shareholder Engagement and Communication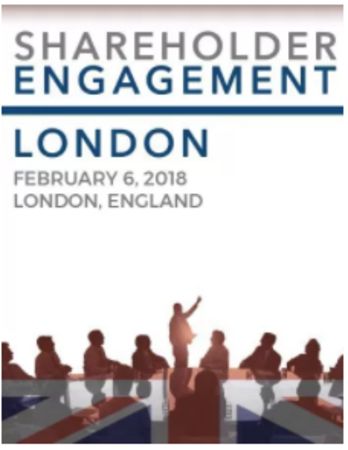 Event Type:

Conference
Event Date:

From 2018-02-06 to 2018-02-06
Location:

Grange City Hotel, 8-14 Cooper's Row, London, EC3N 2BQ ,United Kingdom
Website:
https://go.evvnt.com/176391-0?pid=5386
Contact person:

David Brown
Contact Email:

dbrown@skytopstrategies.com
Event Description:
The focus for this conference centers on the growing trend of shareholders continuing to increase involvement in their ownership of firms. Experts, directors, and senior-level company managers will convene with select institutional shareholders on how to best enhance the outcomes of engagement strategy for mutual value creation. The program includes a highlight of new frameworks and techniques designed to enhance the outcomes of your engagement strategy, encompassing multidisciplinary strategies for handling shareholder engagements. URLs: Booking: https://go.evvnt.com/176391-1?pid=5386 Twitter: https://go.evvnt.com/176391-2?pid=5386 Prices: Early Rate #1: expires Jan 11: USD 695, Early Rate #2 Jan 12-24: USD 995, Full Rate: USD 1295 Speakers: Arturo Albano - Equity Analyst - Corporate Governance Specialist - Amber Capital, Carolyn Dittmeier Chair of the Audit Committee - Alpha Bank Time: 8:00 am to 6:00 pm
Organized by:

Skytop Strategies
Deadline for abstracts/proposals:

02/06/2018
Check the
event website
for more details.